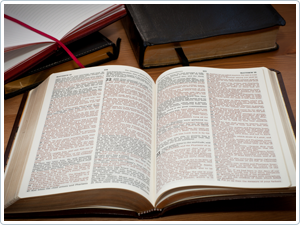 The Living Word Apostolic Bible College (LWABC) has been in operation since 2005, providing exceptional training and spiritual mentorship to students wanting to make a positive impact in their communities.
The LWABC will work together to mentor, encourage and equip leaders in the Word of God to be effective ministers of the gospel. The Living Word Apostolic Bible College will support students in building their unique skills and talents in public speaking, research and a variety of other important attributes of servant leadership and ministry.
The Living Word Apostolic Bible College is affiliated with Parkersburg International Biblical Studies in Parkersburg, West Virginia, founded and directed by Dr. Joe Nelson.
---
Mission Statement
To effectively train and equip men and women for the ministry of our Lord Jesus Christ.
Objectives
To equip men and women spiritually, intellectually, and theologically, so that they will be empowered disciples of Christ.
To develop leadership abilities to propagate the Gospel in an effective way.
To teach relevant life skills in an ever-changing and demanding world.
To support with mentoring and counselling in all aspects of life.
To create a strong, holistic Christian learning environment.
To train students to be better Christian workers in their local church and prepare ministers for world-wide evangelism.
We Believe
The Bible is the inspired Word of God. (II Timothy 3:16)
In repentance, baptism in water, and the infilling of the Holy Ghost with the evidence of speaking in other tongues as the Spirit gives utterance. (Acts 2:38)
That there is only one God manifested as the Father in creation, His son in redemption and as the Holy Ghost in the body of believers. (Colossians 2:9)
In the personal imminent return of our Lord Jesus Christ for the Church. (Revelation 22:7)
That all believers must live a dedicated, sanctified, and holy life separated unto God. (Hebrews 12:14)
In the God-given ministries of the Church; divine healing, gifts of the Spirit, etc. (Mark 16:17-18)